Current
Hours of Operation
Off Season Hours
Memorial Day through Jan 1 Breakfast Friday — Sunday
8:00 AM — 11:00 AM Lunch/Dinner Mon—Thu
11:30 AM to 8:00 PM Fri-Sun
11:00 AM to 8:00 PM
Welcome to Dan'l Boone Inn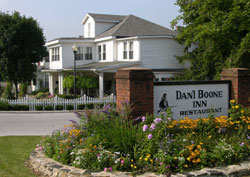 For over 50 years, Dan'l Boone Inn has been serving Boone and the high country delicious homecooked meals, just like you remember at grandma's house. Our family style meals begin with a salad in the summer and soup in the winter. Three meats and five vegetables are served along with biscuits, preserves, dessert and beverage. A full family style breakfast is served on Saturdays and Sundays.
Dan'l Boone Inn has recently been honored by both Southern Living Magazine and Our State Magazine for our country cuisine. The restaurant placed third in Southern Living in the reader's choice awards for country cooking restaurants. We also won first place among readers of Our State Magazine for Family Dining/Country Cooking and third place under Best Restaurant in North Carolina.
More Information
If you need information about any of our services, please feel free to use our contact form, send us an e-mail to info@danlbooneinn.com, or give us a call at (828) 264-8657.
Cash and Checks Accepted. Sorry, No Credit or Debit Cards.
Come & See Us Soon!
Address:
130 Hardin Street
Boone, NC 28607
Phone:
(828) 264-8657

Order Country Ham

Click here to order >>